Sasha (1970) graduated from the KABK in 1994
The Hague towards free graphics. She lives in Schiedam, where she also has her studio at Westvest. Graphics has been the technique in which she can best express herself for years.
"Form is above color" as far as she is concerned. Woodcuts and linocuts, both black and white and very multicolored, occupy a large part of her work. Sometimes it only remains with that cut plank, sometimes the plank is sawn and turned into something else.
Although graphics clearly have her preference, she occasionally makes a foray into other techniques. In addition to her free work and commissioned work, she gives bce lessons at primary schools in Spijkenisse and workshops in her studio. She is a member of Stichting KunstWerkt Schiedam and Regio Art Rijnmond Spijkenisse.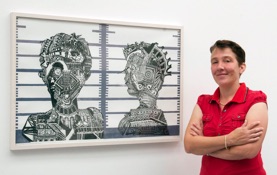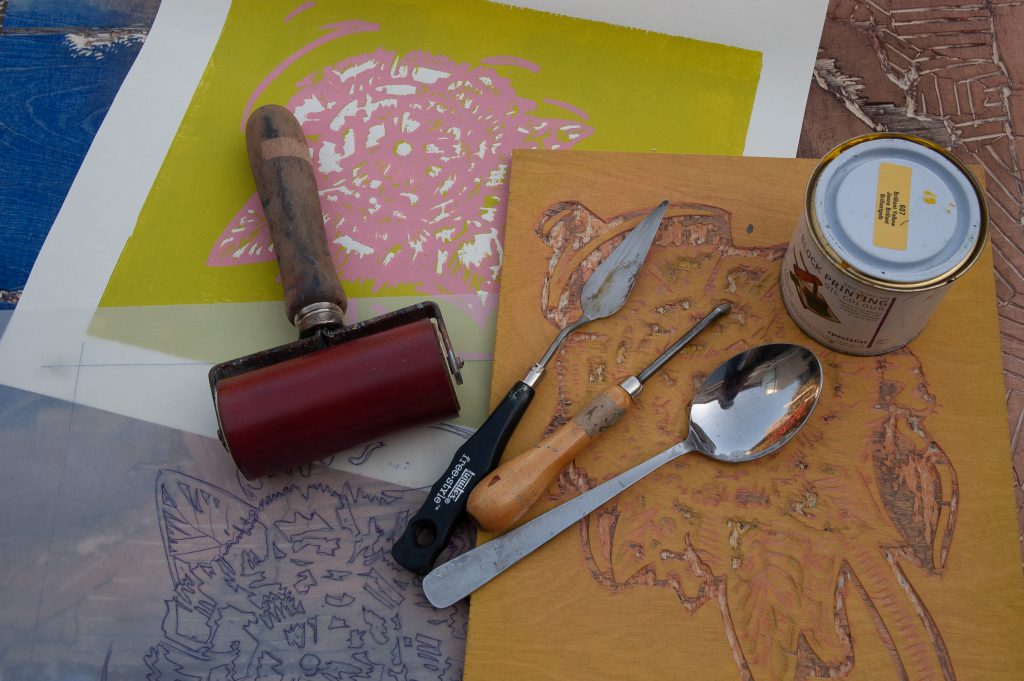 Her starting point is often existing images. She takes a lot of photos and collects images. The designs she makes of these consist of a maze of images that seemingly have nothing to do with each other. At the end of the creative process, the separate images form a whole. The large shape that arises after putting the individual elements together is just as important as the smallest detail. In her work, no use is made of light-dark effects, but depth is created by larger and smaller shapes. Almost always a design is made first, after which the different colors are separated on transparent. The planks and linoleum boards are cut with gouges, utility knife, and dremel. Finally in the process, the prints are printed on rice paper by means of a spoon or the printing press. Craft is an important factor in her work.
Inspiration
Where she gets her inspiration from is very different.
A themed exhibition can be the reason to delve further into a subject.
Subjects that keep returning are architecture, mythological figures, and a nod to the Japanese woodcut. For a year now, the changing world in which we live has occupied her. Corona is certainly part of that.
In addition to her free work, she makes work for projects and works on request.
This is how she made "Wind and light". The work came to life in the evening by means of blacklight. At the wine farm in the Zuidbuurt in Vlaardingen is her "Image of the future". In honor of their 125th anniversary, she has made a work for the Sint Radboud music association consisting of a combination of old instruments and glass.
She also drives work in which she can involve the community. In 2019 she made an interactive image in the outdoor space for the freedom walk in Vlaardingen and in 2020 seven works of the medals of the RopaRun that unfortunately could not take place that year because of Corona. These seven works were realized together with volunteers.